WHY DO RESCUE?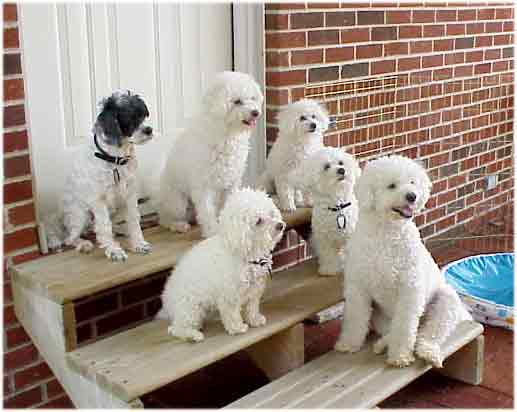 You are looking at six reasons!

This crew of smiling sweeties has just spent the day hiking in the mountains,
fording streams, and picnicing in the shade with their family and friends.
They are dirty as can be ... but each is alive, happy and healthy.
A bath and blowdry and they'll be ready to
return to being our family's curly lap dogs!



Yes, six very special reasons to rescue ....

P.S. Each came to us at a time when they were
in grave danger of being euthanized (that means killed dead).
With love and kindness, each is a near-perfect dog today!!

ARE YOU DOG SAVVY ?
NO SMALL CHILDREN IN YOUR HOME?
DO YOU WORK FROM HOME OR RETIRED?
INTERESTED IN FOSTERING A BICHON IN NEED?
Bichon Rescue pays the vet bills ...
Give the gift of Life to a Bichon in need
Email: FOSTER